WIFI 6 and The Role of RF Filters in The 5G Era
2022-05-12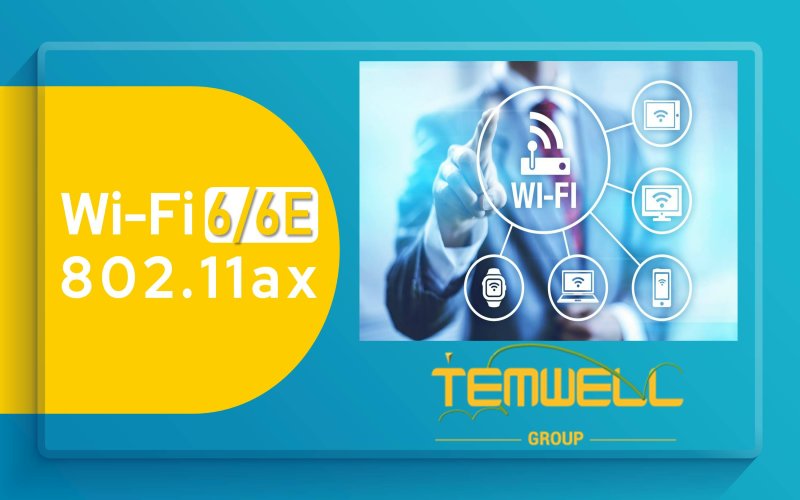 What is WIFI 6?
WIFI refers to a kind of wireless network communication signal. Based on the standard wireless network communication protocol of the network, the base station could convert the Direct Link Internet Signal into a wireless network signal and serve a small area. It could provide a large number of network transmission signals within the specified range so that more people can use the Internet immediately, which greatly improves the convenience of internet use.

"Wi-Fi" is a term coined by the non-profit Wi-Fi Alliance to refer to a set of wireless networking protocols based on the IEEE 802.11 networking standard. Since its inception in the late 1990s, it has continuously improved, upgraded, and evolved. To highlight the differences between generations for easy identification, the Wi-Fi Alliance has adopted a simple naming method by a single-digit number, such as 2, 3,4, 5, etc, which makes it easier to know what generation of technology you are using and to be able to determine the compatibility of devices that support that version.

WIFI 6 means the 6th generation of WIFI. The main difference is installing the latest writing streaming technology to provide larger and faster transmission speed and traffic. It claims to have almost the same transmission energy as a direct connection internet signal, greatly improving the efficiency and application of wireless networks.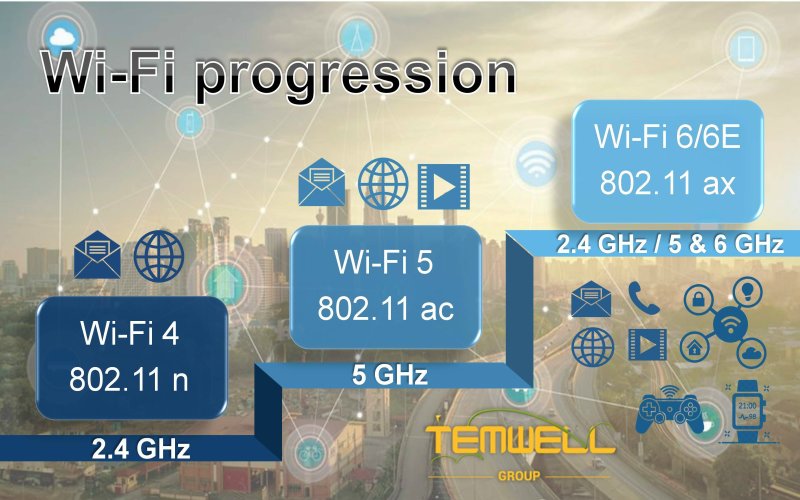 WIFI progression
WIFI device has been introduced into the consumer market for a long time, but in terms of stability and transmission energy, it has not been able to meet the needs of the majority and the requirement of different applications. Therefore, it can only be regarded as an auxiliary device of the direct link internet. Under the home environment, it can only take as a flexible network device with the wireless function.

WIFI has been put into utilized on a large scale since WIFI 4 was released in 2009 because under the communication protocol of WIFI 4, basic service quality can be achieved for the general public, and communication signals can be stably provided to meet the transmission requirements of the public infrastructure equipment. At the same time, it can also further meet the application of various commercial system architectures.

Soon, WIFI 4 has been widely adopted in homes, public infrastructure, office utility, and factory equipment. Furthermore, developed a variety of new era applications. Even in the application of the latest 5G automotive electronic equipment, the WIFI signal is also included as one of the main transmission methods. In addition to the standard 2.4G frequency band, the frequency band used by WIFI 4 adds the 5G frequency band to increase the energy that WIFI can support.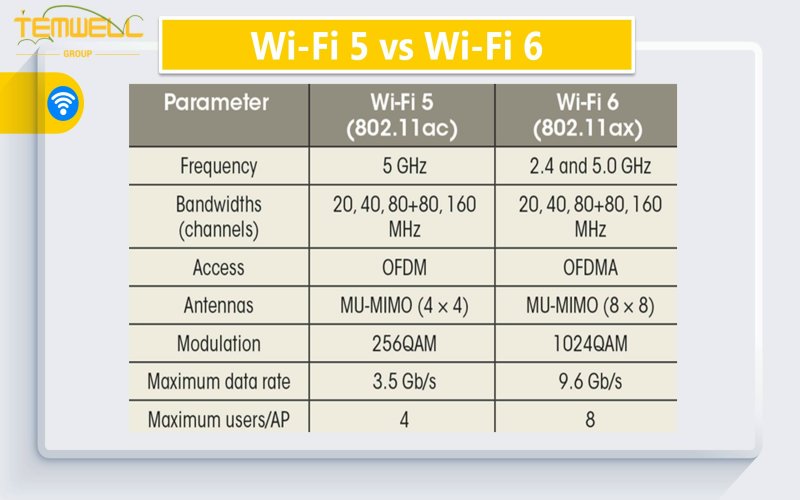 WIFI 5 mainly adopts 5G frequency band, and develops a new generation of chip writing technology with 5G generation, so that WIFI can take advantage of 5G - large transmission capacity and high transmission speed to increase the efficiency of WIFI.

WIFI 6 adopts the way of sharing 3 frequency bands. Through the new communication protocol, the 2.4G frequency band, the 5G frequency band, and the 6G frequency band are used to set up a small internal self-constructed network structure, thereby providing better communication quality. More functions and performance to meet the requirements of more product applications.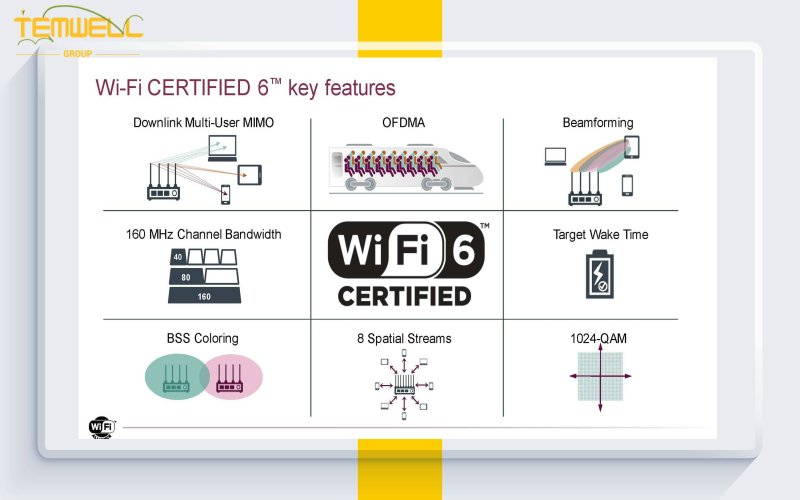 WIFI Application
WIFI application starts from the base station that provides wireless internet in a specific area. With the launch of new generation systems such as WIFI 4, WIFI 5, and WIFI 6, the application has gradually upgraded and improved and has been extended to automotive electronics and smart homes. , entertainment games, smart enterprises, smart industries, etc., as well as a variety of emerging IoT applications.

Automotive Electronics:
Connectivity in vehicles is increasingly becoming one of the keys to vehicle design decisions, as vehicle connectivity enables a wide variety of innovative user experiences, value-added services, safety enhancements, and other features. Future vehicles can utilize stable wireless technology to realize various important functional applications, such as in-vehicle infotainment and audio systems, car keyless entry, tire pressure monitoring systems, biometric wearable devices, connected maintenance, diagnostics, automatic vehicle data collection, In-vehicle camera systems, vehicle-to-everything (V2X) capabilities, and other items. For WIFI 6 that can provide high performance, there will be great advantages.

Smart Homes:
The development of smart home applications in recent years has been dominated by front-end applications that enhance voice control. OEMs such as Amazon, Google, Xiaomi, and other OEMs are promoting the development of voice assistants and smart home functions. WIFI was originally the main application in the field of home wireless communication. The traditional design method is to use Wi-Fi 4 and Bluetooth combination IC to easily connect cloud services and mobile devices. Later, it began to integrate large displays, support video calls, streaming entertainment services, and serve as surveillance cameras and other services. The requirements for Wi-Fi performance have gradually increased. For WIFI 6, which can provide high performance, it will be a very advantageous evolution.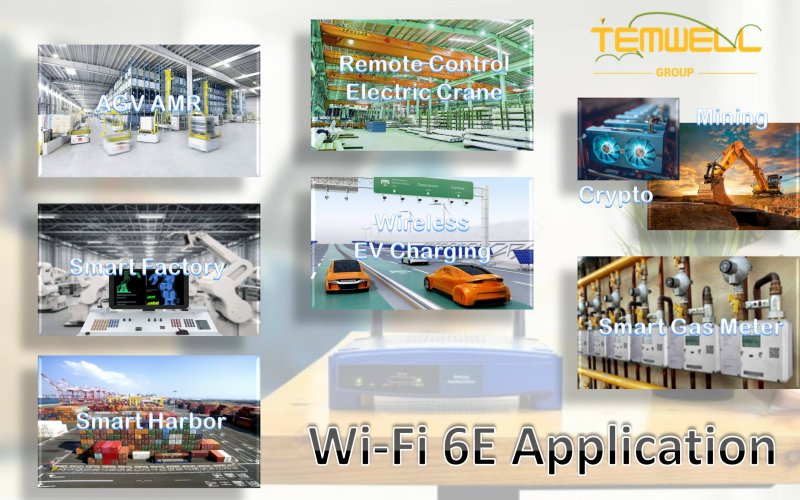 Entertainment & Games:
In terms of home entertainment and games, use networked home devices, such as smart TVs, media streaming adapters, speakers and game consoles, multiplayer online games, wearable game devices, etc., with WIFI wireless transmission, so that entertainment games can be Created greater possibilities. Smart TVs have generally incorporated the Wi-Fi function into one of the functions equipped TVs. Currently, they can stream 4K content and will move towards 8K content in the future. In terms of game consoles, it is also pursuing strong connection capabilities to connect games, such as the connection requirements of game consoles (PS4, Xbox, and Nintendo Switch). In multiplayer online games, there are huge requirements for connection stability and lag-free performance, because this is the biggest consideration for the game experience.

Smart Enterprises & Office:
Wi-Fi has been deployed in many university environments, supporting Wi-Fi-enabled student devices such as laptops, smartphones, tablets, game consoles, wearables, smart speakers, and many others. And with augmented reality (AR) and virtual reality (VR), online live streaming, and remote education tools to form the latest remote education model.

In the commercial office environment, use powerful WIFI performance to create a more collaborative workspace, support various office equipment, laptops, smartphones, tablets, and other mobile devices, and allow each device to enjoy a higher average transmission volume.

Healthcare organizations are also starting to take advantage of the new high-performance Wi-Fi to support remote heartbeat monitors, oxygen monitors, and smart hospital beds, as well as instant access to X-rays, magnetic resonance imaging (MRI) scans, and electronic medical records (EMRs) through mobile devices ). The goal of telemedicine can also be achieved through a high-quality Internet connection.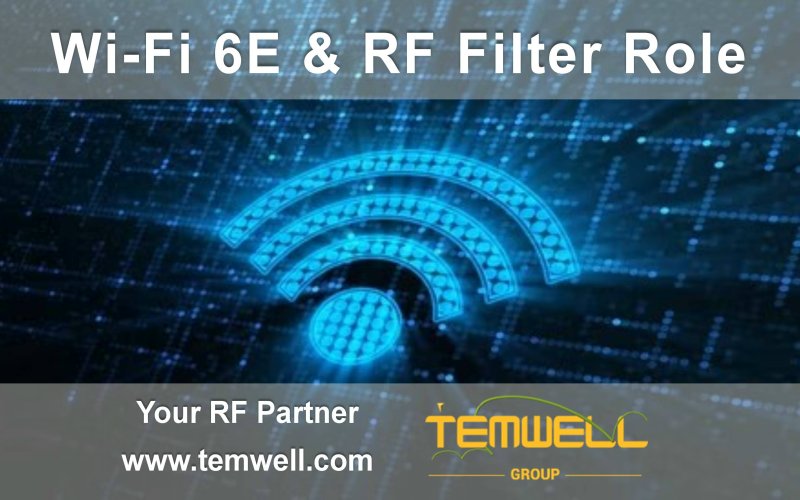 Smart Industries:
The industrial environment also pursues a robust, reliable, secure, and flexible Wi-Fi infrastructure just like the home and enterprise environment, supporting the increasing number of wireless devices, and helping to achieve the new generation of industry 4.0 operating environment, including smart factories that enable more flexible automated production lines, condition monitoring, robotics, wearables, AR and security applications.

In smart warehousing, WIFI, sensors, RFID radio frequency identification, GPS system, and other methods are used, combined with automated logistics equipment to realize the functions of automatic capture, identification, early warning, and management of incoming and outgoing data, effectively reducing costs and optimizing efficiency.

In the smart seaport, uncrewed vehicles such as drones, uncrewed ships, and underwater maritime robots are operated through the WIFI network structure, and the intelligent inspection of port airspace and sea area is constructed. With AI intelligent analysis and UTM unmanned vehicle intelligent supervision platform, they Fully grasped the real-time situation. It can also be extended to applications in harsh environments in the natural mining industry, such as underground mining and oil mining have special communication requirements, security monitoring requirements, and equipment maintenance requirements.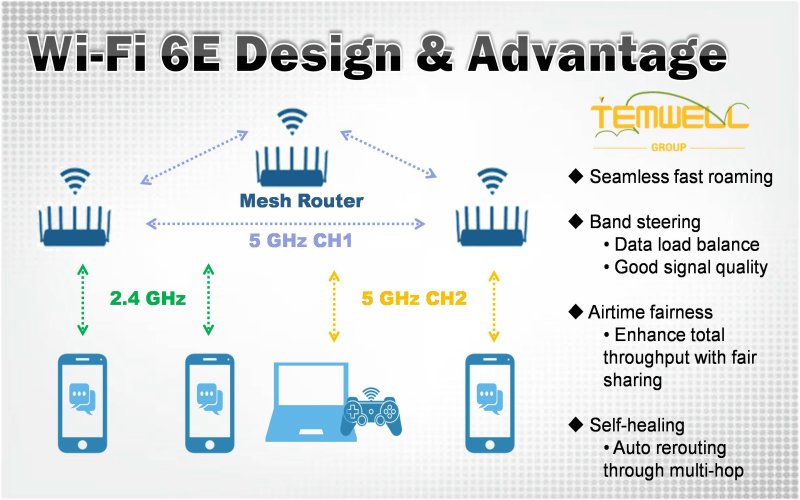 The latest 5G architecture of WIFI 6/7
With the vigorous development of the new generation of 5G, new types of network usage methods are constantly emerging, and various network applications are constantly being launched. In order to match the needs of the market and the public, WIFI 6/7 has also produced a new system architecture to deal with it. The new WIFI architecture can play the performance of one plus one is greater than two, provide highly flexible and changeable functions, and meet the needs of more 5G applications.

The new basic architecture is responsible for different transmission tasks by utilizing the different conduction characteristics of each frequency band. Long-distance transmission is handled by ultra-high frequency bands such as 5G/6G, which can meet the requirements of large transmission volume and high-speed transmission. The short-distance transmission uses the 2.4G frequency band to achieve the best connection performance with the terminal equipment, and in the transmission of each host , not limited to one host to complete all tasks, adopt the structure of one main machine and multiple sub-machines, and make the best distribution of various functions.

Transform a whole into multiple small units, each small unit is responsible for a part of the task, sometimes all the sub-hosts of the small unit can also assist the operation of the main machine, achieve the goal of maximizing overall efficiency. Of course, this is based on the support from a new generation of powerful ICs built inside WIFI 6 to achieve the best coordination results.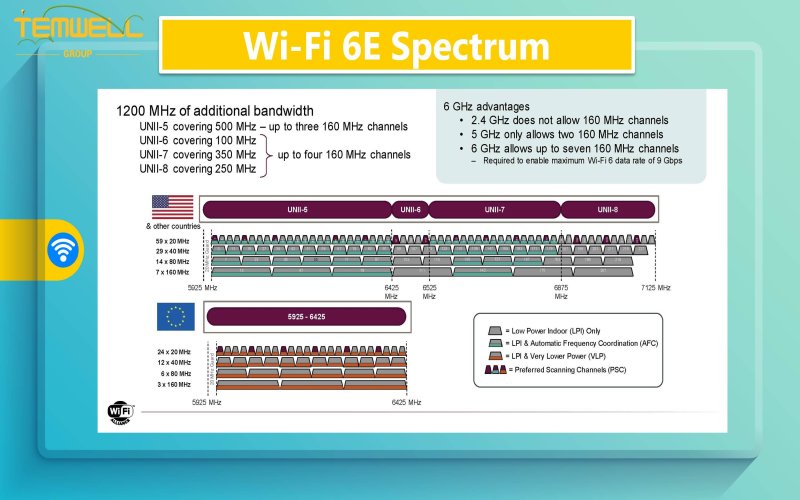 How Can RF Baw and Saw Filters Solve Potential Interference Problems with WIFI 6?
When the WIFI transmission system is converted from an indoor regional environment to large-scale outdoor signal transmission, it is inevitable that the signals will interfere with each other, especially for the mainstream 5G transmission signals outdoors. When WIFI transmission enters applications such as smart factories, smart warehousing, and smart seaports, the original 5G signal will be severely affected, and WIFI and 5G signals will interact from time to time.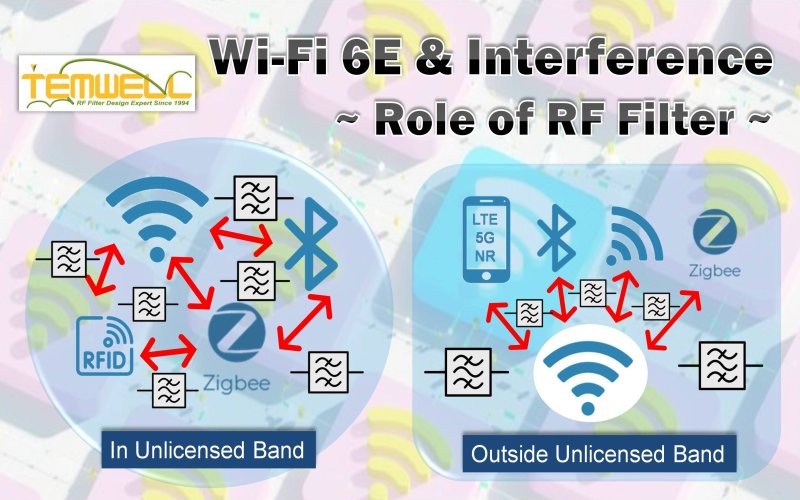 However, the powerful application of WIFI has become an indispensable design method for various new-generation applications. Therefore, in major regions such as the United States and Europe, special block divisions are made to deal with the interference problem in this part. Then RF saw baw filter will be a very important role in the progress.

In addition, the new generation of RF saw baw filter development engineers should consider not only the communication performance but also the configuration of the corresponding RF Filter components when developing products or systems. RF saw and baw filters design will play an important role in the new generation of communication design as an important assistant for coordinating WIFI 6 and 5G signals.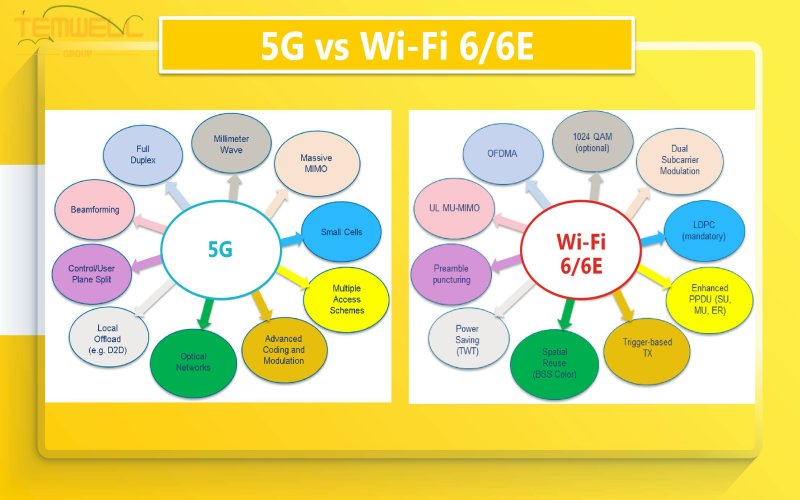 Temwell RF Saw Baw Filters for 5G Bands Expert in Design
TEMWELL Group is a leading expert in Microwave and Radio Frequency Solutions in the field of Wireless Communications to steadily supply worldwide market and high-end applications. Based on our strong and high quality R&D Team, we enable you to satisfy all kinds of RF Saw Baw Filter Design projects to effectively suppress interference and protect the operating frequency of your equipment.

Our product series includes Baw Filter, Saw Filter, Helical Filter, Cavity Filter, SMD Filter, Needle Filter, Inductor, Coil, Diplexer, Duplexer, n-way Combiner, and all kinds of RF components. Products are made in Taiwan with ISO certification, RoHS certification, REACH compliance, and California Proposition 65 compliance. For more information, please contact us for free consultant service.


Subscribe to us on Facebook for the latest product news.