5G Helical Bandpass Filter
RF Helical Bandpass Filter is composed of varying numbers of resonators; normally it could be 2 to 6 sections, and the structural shape is similar to a spiral, which is also called a spiral filter. The basic structure and operation of the Helical Bandpass Filter are passive components without power. Physically, an RF Helical Filter is a spiral coil surrounded by a square conductive shielding shell. One end of the spiral coil is connected to the load, and the other end remains open, Its working principle is similar to a coaxial resonator, but the length of its wavelength is much shorter because the spiral-shaped inner conductor will reduce the wave propagation speed, and the length of the wire is only a quarter of the target wavelength.
RF Helical Bandpass Filter has excellent environmental adaptability, especially the corresponding operating performance can be set for a special temperature environment. Generally, RF Helical Filter can operate from -30°C to +75°C, However, the performance can be adjusted separately for -40℃ or +85℃. In theory, due to the special manufacturing method, it can have a higher Q value performance, so in terms of insertion loss and attenuation, Has excellent performance.
RF Helical Filter is usually suitable for various frequencies between 50 MHz and 3000 MHz. Generally speaking, it is more common to be used in the form of a bandpass filter because of the structure of the Helical Bandpass Filter. It has very high design flexibility and its structure can be adjusted quickly according to the different frequency requirements to meet the needs of each bandwidth. At the same time, by increasing the number of resonators to improve the performance of the filter, It can also quickly meet the requirements of filtering performance. At present, Helical Filter has up to 6 resonators that can be achieved, and the isolation can reach above 80-90dBc.
Furthermore, RF Helical Bandpass Filter provides the function of tuning Center Frequency parameters, allowing users and engineers to adjust the center frequency parameters in small amplitudes, ranging from 1-3MHz to 5-10MHz. The ability to adjust the range of self-tuning will change according to the RF Filter parameters in design simulation.
Generally speaking, RF engineers and users can purchase RF Helical Filter with the center frequency parameter closest to the demand, and then fine-tune the center frequency parameter by himself after installing it on the actual machine, and finally achieve the best output performance. Therefore, Helical Bandpass Filter can also be called Helical Tunable Band Pass Filter.
Looking for Tunable RF Bandpass Filter means looking for Helical Tunable Bandpass Filter as well.
Commonly used are the following communication product applications:
Wireless communication equipment: truck communication, train communication, ocean and air communication.
Broadcasting equipment: TV, cable TV
Network communication equipment: indoor TX and RX devices, walkie-talkie
Disaster prevention communication equipment: fire fighting, emergency broadcast
Equipment measurement: laboratory development, testing center experiment
Signal jamming: building jamming, hospital jamming, military facility jamming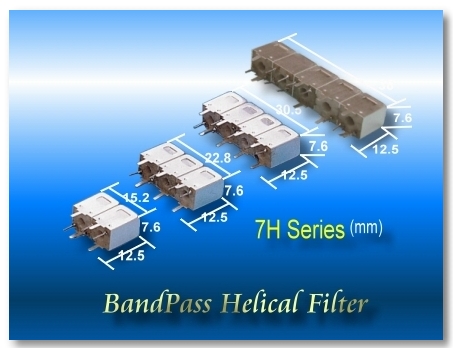 Temwell is the worldwide expert in designing and manufacturing RF 5G BandPass Filter. Based on over 25s experience, we supply manifold Helical BandPass Filter to fulfill our clients' expectations and also offer a full range of custom RF 5G bandpass filter services with a suitable charge. Our custom 5G RF band pass filters are quality-guaranteed and have no performance loss in center frequency change, bandwidth change, attenuation value-adding, size change, impedance change and connectorized design. The detail value is as below.
Center Frequency range: 42 ~ 2600MHz
Bandwidth range: 5 ~ 200MHz
Impedance: 50ohm & 75ohm
Attenuation value: 10dB upgrated by each pole adding
Size: 7H/ 7S/ 5R/ 5W
If you have demands for a custom RF 5G band pass filters, welcome to contact Temwell anytime!
4 Main Series Introduction
4 Main Series Size
| Series \ (mm) \ Pole | Pole(LxWxH) | 3Pole(LxWxH) | 4Pole(LxWxH) | 5Pole(LxWxH) |
| --- | --- | --- | --- | --- |
| 7H Series | TD(15.2x7.6x12.5) | TT (22.8x7.6x12.5) | TF (30.5x7.6x12.5) | TV (38x7.6x12.5) |
| 7S Series | TDS (15.2x7.6x7.7) | TTS (22.8x7.6x7.7) | TFS (30.5x7.6x7.7) | |
| 5W Series | TDW (11.2x5.6x8.6) | TTW (16.8x5.6x8.6) | TFW (22.4x5.6x8.6) | |
| 5R Series | TDR (11.2x5.6x8.6) | TTR (16.8x5.6x8.6) | TFR (22.4x5.6x8.6) | |
Other Bandpass Helical Filter Series