High Frequency BPF for Transceiver & Receiver
2019-11-19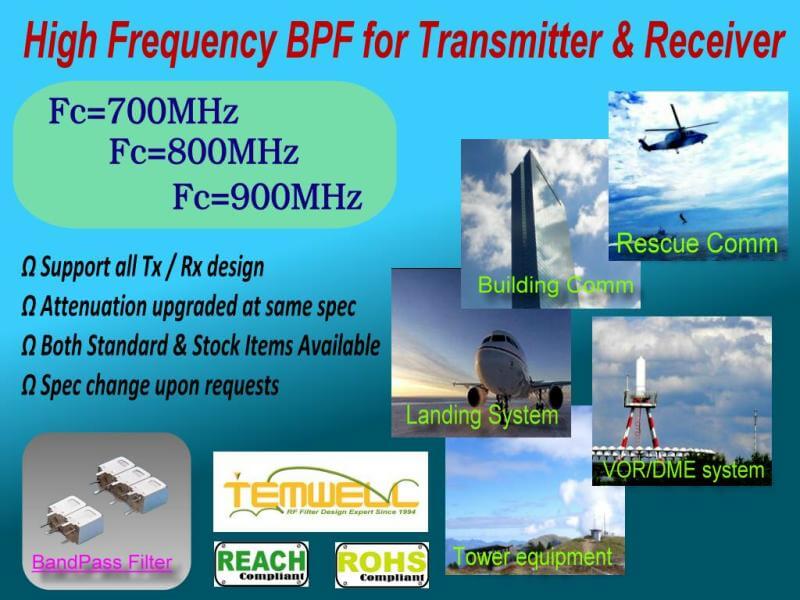 RF Filter for 700MHz, 800MHz, 900MHz Transceiver & Receiver to omit interference

In order to improve the level of mobile coverage across local by 5G network and 5G applications, global governments are re-allocating and auctioning the spectrum, in 600 MHz, 700 MHz, 800 MHz, and 900 MHz bands especially.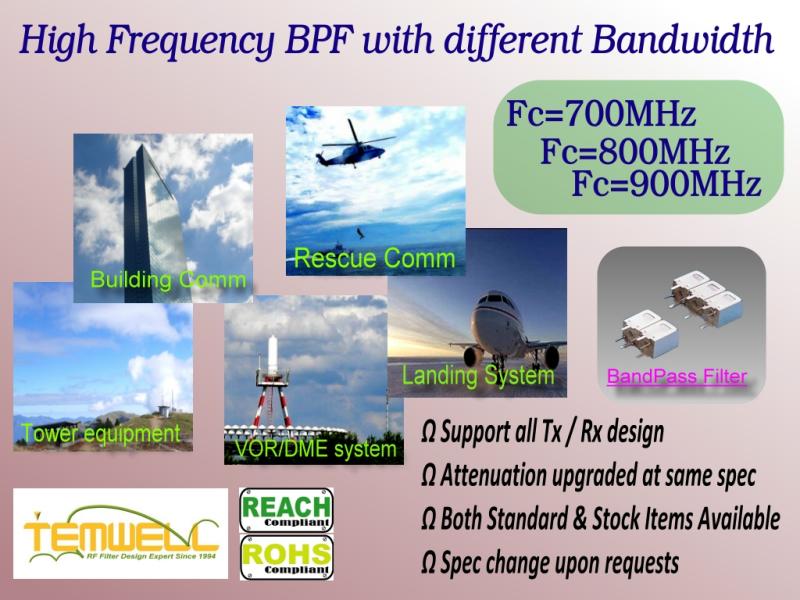 Unite State FCC has completed the 600 MHz band auction in March 2017, process of clearing the spectrum & repacking TV stations to end in 39 months. The 600 MHz band has currently being cleared of its existing use for the transmission of Digital Terrestrial Television (DTT) and by wireless microphones used in the entertainment industry for programme-making and special events (PMSE). The 70 MHz of spectrum available in the 600 MHz band sits within the 617-698 MHz frequency range. It is made up of two 35 MHz blocks spectrum (downlink 617-652 MHz and uplink 664-698 MHz) would be used for 5G, and a gap of two 20 MHz each in 653-657 MHz and 657-663 MHz still for licensed and unlicensed wireless mics service.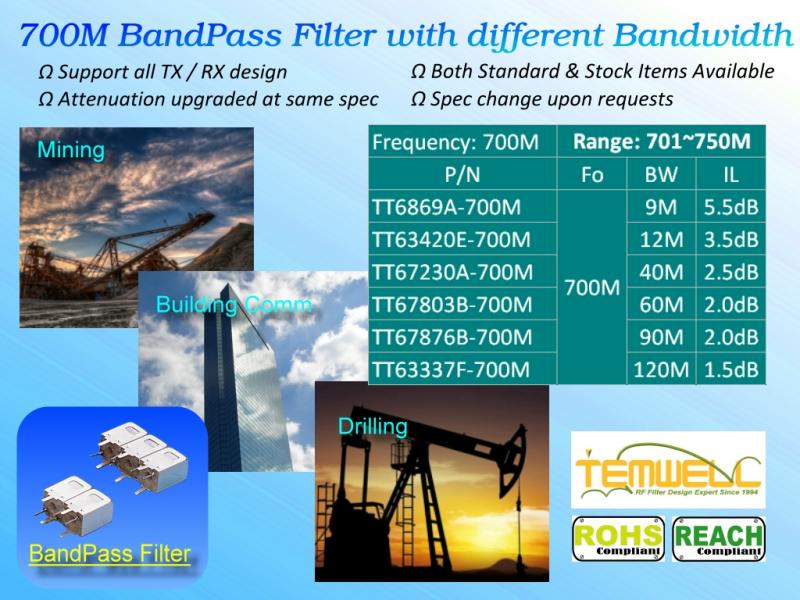 700 MHz band is well suited for providing 5G mobile coverage over wide areas and indoors, including mobile voice and data coverage in rural areas, inside buildings and in other harder-to-reach places. UK Ofcome is currently clearing 700 MHz band of transmissions of Digital Terrestrial Television (DTT) and by wireless microphones used in the entertainment industry. This band should become available for mobile use by May/June 2020, subject to the DTT clearance completing to schedule. The 80 MHz of spectrum available in the 700 MHz band sits within the 694-790 MHz frequency range. It is made up of two 30 MHz blocks of paired spectrum (703-733 MHz and 758-788 MHz), and a "centre gap" of 20 MHz at 738-758 MHz which is suitable for delivering supplemental downlink (SDL) for mobile services.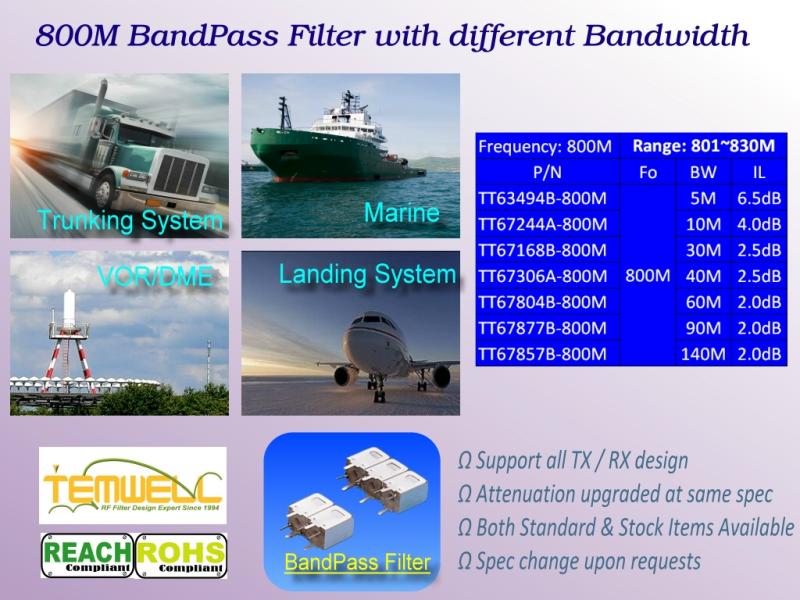 800 MHz band range holds within 790-862 MHz, fit for home to commercial wireless carriers and private radio systems. The 800 MHz band was used for analogue television broadcasting before changing to digital terrestrial television in many countries, it is also called as "digital dividend" spectrum. Now this band can be used for wireless mobile broadband services in Europe.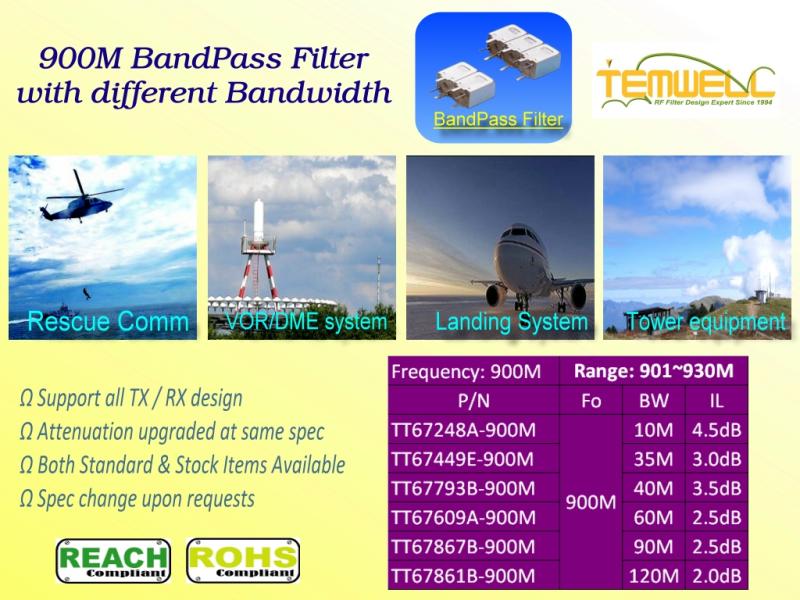 900 MHz band also referred as 33-centimeters band. It is a part of the UHF radio spectrum internationally allocated to amateur radio service on a secondary basis, also allocated to ISM (Industrial, Scientific, and Medical) devices, frequency range from 902 to 928 MHz.

Each frequency bands existing possible interference problems when different applications operates in same bands. For instance, TV and PMSE may be subject to strong signal interference from GSM, 4G LTE or 5G mobile broadband service base stations; Because the very limited guard band between the new services and the existing TV services in some cases the GSM, 4G LTE or 5G base station signals may cause interference to digital terrestrial televisions and low power radio devices, e.g. cordless headphones, assistive listening devices, wireless microphones, often on a licensed exempt basis; Amateur stations using in TV, repeater, cordless phones, wireless networking, walkie talkies and so forth, must accept harmful interference caused by ISM users that very at strongly transmission.

Therefore, Temwell designed series of Bandpass Filter in bands of 600 MHz, 700 MHz, 800 MHz, and 900 MHz with different bandwidth for option. They are suitable for rejecting interference from adjacent channels between strong signals LTE / 5G / GSM mobile systems and support protection for your existing use low power repeater, transceiver or receiver.
| A. Frequency: 700MHz | Spec (Freq / BW / IL) | Size (LxWxH) | Accepted Type |
| --- | --- | --- | --- |
| TT6869A-700M | 700MHz / 9MHz / 5.5 dB | TT (22.8x7.6x12.5) | Pin Type / Module Type |
| TT63420E-700M | 700MHz / 12MHz / 3.5 dB | TT (22.8x7.6x12.5) | Pin Type / Module Type |
| TT67230A-700M | 700MHz / 40MHz / 2.5 dB | TT (22.8x7.6x12.5) | Pin Type / Module Type |
| TT67803B-700M | 700MHz / 60MHz / 2.0 dB | TT (22.8x7.6x12.5) | Pin Type / Module Type |
| TT67876B-700M | 700MHz / 90MHz / 2.0 dB | TT (22.8x7.6x12.5) | Pin Type / Module Type |
| TT63337F-700M | 700MHz / 120MHz / 1.5 dB | TT (22.8x7.6x12.5) | Pin Type / Module Type |
| B. Frequency: 800MHz | Spec (Freq / BW / IL) | Size (LxWxH) | Accepted Type |
| --- | --- | --- | --- |
| TT63494B-800M | 800MHz / 5MHz / 6.5 dB | TT (22.8x7.6x12.5) | Pin Type / Module Type |
| TT67244A-800M | 800MHz / 10MHz / 4.0 dB | TT (22.8x7.6x12.5) | Pin Type / Module Type |
| TT67168B-800M | 800MHz / 30MHz / 2.5 dB | TT (22.8x7.6x12.5) | Pin Type / Module Type |
| TT67306A-800M | 800MHz / 40MHz / 2.5 dB | TT (22.8x7.6x12.5) | Pin Type / Module Type |
| TT67804B-800M | 800MHz / 60MHz / 2.0 dB | TT (22.8x7.6x12.5) | Pin Type / Module Type |
| TT67877B-800M | 800MHz / 90MHz / 2.0 dB | TT (22.8x7.6x12.5) | Pin Type / Module Type |
| TT67857B-800M | 800MHz / 140MHz / 2.0 dB | TT (22.8x7.6x12.5) | Pin Type / Module Type |
| C. Frequency: 900MHz | Spec (Freq / BW / IL) | Size (LxWxH) | Accepted Type |
| --- | --- | --- | --- |
| TT67248A-900M | 900MHz / 10MHz / 4.5 dB | TT (22.8x7.6x12.5) | Pin Type / Module Type |
| TT67449E-900M | 900MHz / 35MHz / 3.5 dB | TT (22.8x7.6x12.5) | Pin Type / Module Type |
| TT67793B-900M | 900MHz / 40MHz / 3.5 dB | TT (22.8x7.6x12.5) | Pin Type / Module Type |
| TT67609A-900M | 900MHz / 60MHz / 2.5 dB | TT (22.8x7.6x12.5) | Pin Type / Module Type |
| TT67867B-900M | 900MHz / 90MHz / 2.5 dB | TT (22.8x7.6x12.5) | Pin Type / Module Type |
| TT67861B-900M | 900MHz / 120MHz / 2.0 dB | TT (22.8x7.6x12.5) | Pin Type / Module Type |
If demo center frequency and bandwidth not suitable, we provide flexible frequency and bandwidth design service. We also support other design and other type filter and duplexer (e.g. Notch, Lowpass, Highpass, SMD, Cavity, Waveguide etc) for higher power and outdoor application if required, please refer to:Custom Cavity Filter , Custom SMD Filter, Ccustom Duplexer & Diplexer


More questions or need further information about design filter service, please Contact us

Subscribe to us on facebook for latest product news.
https://www.facebook.com/temwell
https://www.facebook.com/temstron