Ham Radio Filter with Flexible Bandwidth
2019-11-15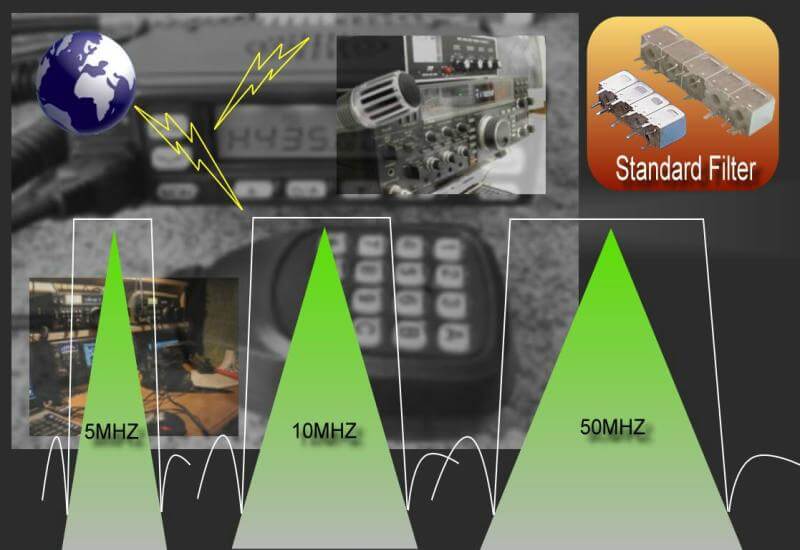 Passband bandwidth is the difference between the upper and lower cutoff frequencies. For example, a bandpass filter, a communication channel, or a signal spectrum. It is typically measured in hertz. A key characteristic of bandwidth is that any band of a given width can carry the same amount of information, regardless of where that band is located in the frequency spectrum. Bandwidth is a key concept in many radio communications applications. In radio communications, bandwidth is the frequency range occupied by a modulated carrier signal.

Amateur radio faces lots of signal interference affected communication. The interference may prevent reception altogether, may cause only a temporary loss of a signal, or may affect the quality of the sound or picture produced by your equipment. Use a higher bandwidth filter will make more suitable for amateur radio application.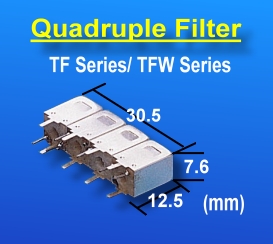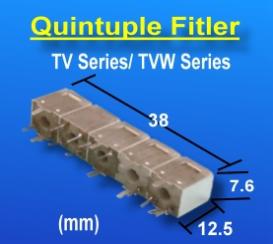 Temwell helical band pass filter is a device that passes frequencies within a certain range and rejects frequencies outside that range. We provide various different bandwidth band pass filters for 6 standard amateur radio frequencies to protect their working frequency bands. The 6 standard amateur radio frequencies are 146 MHz, 232.5 MHz, 435 MHz, 915 MHz, 1270 MHz and 1282.5 MHz. The bandwidth included 5 MHz, 10 MHz, 20 MHz, 30 MHz, 50 MHz, 60 MHz, 70 MHz, 80 MHz, 120 MHz, 200 MHz, etc. Along with stable transmission of data, the higher bandwidth also has better anti-jamming capabilities. It can effectively protect signals from being interfered. You only need to use one λ/4-wave helical band pass filter to achieve high bandwidth. And the volume is not very large. Temwell helical band pass filter can reduce time and cost when designing.
---
A. Frequency: 146MHz

Spec (Freq / BW)

Size (LxWxH)

Accepted

Type

TT67709B-146M

146MHz / 5MHz

TT (22.8x7.6x12.5)

Pin Type / Module Type

TT63774A-146M

146MHz / 10MHz

TT (22.8x7.6x12.5)

Pin Type / Module Type

TT63775B-146M

146MHz / 20MHz

TT (22.8x7.6x12.5)

Pin Type / Module Type

TF69709B-146M

146MHz / 5MHz

TF (30.5x7.6x12.5)

Pin Type / Module Type

TF64790B-146M

146MHz / 10MHz

TF (30.5x7.6x12.5)

Pin Type / Module Type

TV6533B-146M

146MHz / 5MHz

TV (38x7.6x12.5)

Pin Type / Module Type
| | | | |
| --- | --- | --- | --- |
| B. Frequency: 223.5MHz | Spec (Freq / BW) | Size (LxWxH) | Accepted Type |
| TT6762B-223.5M | 223.5MHz / 9MHz | TT (22.8x7.6x12.5) | Pin Type / Module Type |
| TT63778B-223.5M | 223.5MHz / 20MHz | TT (22.8x7.6x12.5) | Pin Type / Module Type |
| TF64792A-223.5M | 223.5MHz / 5MHz | TF (30.5x7.6x12.5) | Pin Type / Module Type |
| TF64793B-223.5M | 223.5MHz / 10MHz | TF (30.5x7.6x12.5) | Pin Type / Module Type |
| TF64794F-223.5M | 223.5MHz / 20MHz | TF (30.5x7.6x12.5) | Pin Type / Module Type |
| TV6536B-223.5M | 223.5MHz / 10MHz | TV (38x7.6x12.5) | Pin Type / Module Type |
| TV6537A-223.5M | 223.5MHz / 20MHz | TV (38x7.6x12.5) | Pin Type / Module Type |
| TV6538A-223.5M | 223.5MHz / 50MHz | TV (38x7.6x12.5) | Pin Type / Module Type |
C. Frequency: 435MHz

Spec (Freq / BW)

Size (LxWxH)

Accepted Type

TT67295B-435M

435MHz / 35MHz

TT (22.8x7.6x12.5)

Pin Type / Module Type

TF69295B-435M

435

MHz / 34MHz

TF (30.5x7.6x12.5)

Pin Type / Module Type
D. Frequency: 915MHz

Spec (Freq / BW)

Size (LxWxH)

Accepted Type

TT67550E-915M

915MHz / 26MHz

TT (22.8x7.6x12.5)

Pin Type / Module Type

TT63782A-915M

915MHz / 55MHz

TT (22.8x7.6x12.5)

Pin Type / Module Type

TT63783F-915M

915MHz / 80MHz

TT (22.8x7.6x12.5)

Pin Type / Module Type

TF69550E-915M

915

MHz / 27MHz

TF (30.5x7.6x12.5)

Pin Type / Module Type
| | | | |
| --- | --- | --- | --- |
| E. Frequency: 1270MHz | Spec (Freq / BW) | Size (LxWxH) | AcceptedType |
| TT67810B-1270M | 1270MHz / 60MHz | TT (22.8x7.6x12.5) | Pin Type / Module Type |
| TF69810B-1270M | 1270MHz / 60MHz | TF (30.5x7.6x12.5) | Pin Type / Module Type |
| | | | |
| --- | --- | --- | --- |
| F. Frequency: 1282.5MHz | Spec (Freq / BW) | Size (LxWxH) | Accepted Type |
| TT63784B-1282.5M | 1282.5MHz / 20MHz | TT (22.8x7.6x12.5) | Pin Type / Module Type |
| TT67426D-1282.5M | 1282.5MHz / 25MHz | TT (22.8x7.6x12.5) | Pin Type / Module Type |
| TT63788F-1282.5M | 1282.5MHz / 200MHz | TT (22.8x7.6x12.5) | Pin Type / Module Type |
| TF64753D-1282.5M | 1282.5MHz / 25MHz | TF (30.5x7.6x12.5) | Pin Type / Module Type |
| TF64803B-1282.5M | 1282.5MHz / 120MHz | TF (30.5x7.6x12.5) | Pin Type / Module Type |
| TV6543B-1282.5M | 1282.5MHz / 20MHz | TV (38x7.6x12.5) | Pin Type / Module Type |
| TV6544B-1282.5M | 1282.5MHz / 50MHz | TV (38x7.6x12.5) | Pin Type / Module Type |
| TV6545B-1282.5M | 1282.5MHz / 70MHz | TV (38x7.6x12.5) | Pin Type / Module Type |
Temwell helical band pass filter is readily hand solderable, pin type, power 5 watts and acceptable fine-tune the frequency. You can order the filters on Shopline Store. On Shopline store we built over hundreds of standard helical band pass filter for selection. All filters are ready-made. Delivery within 72 hours. No minimum order quantity. Made in Taiwan with ISO certification, RoHS certification, REACH compliance and California Proposition 65 complicance. Click

Temwell Filter Store

to see details or email sales@temwell.com.tw